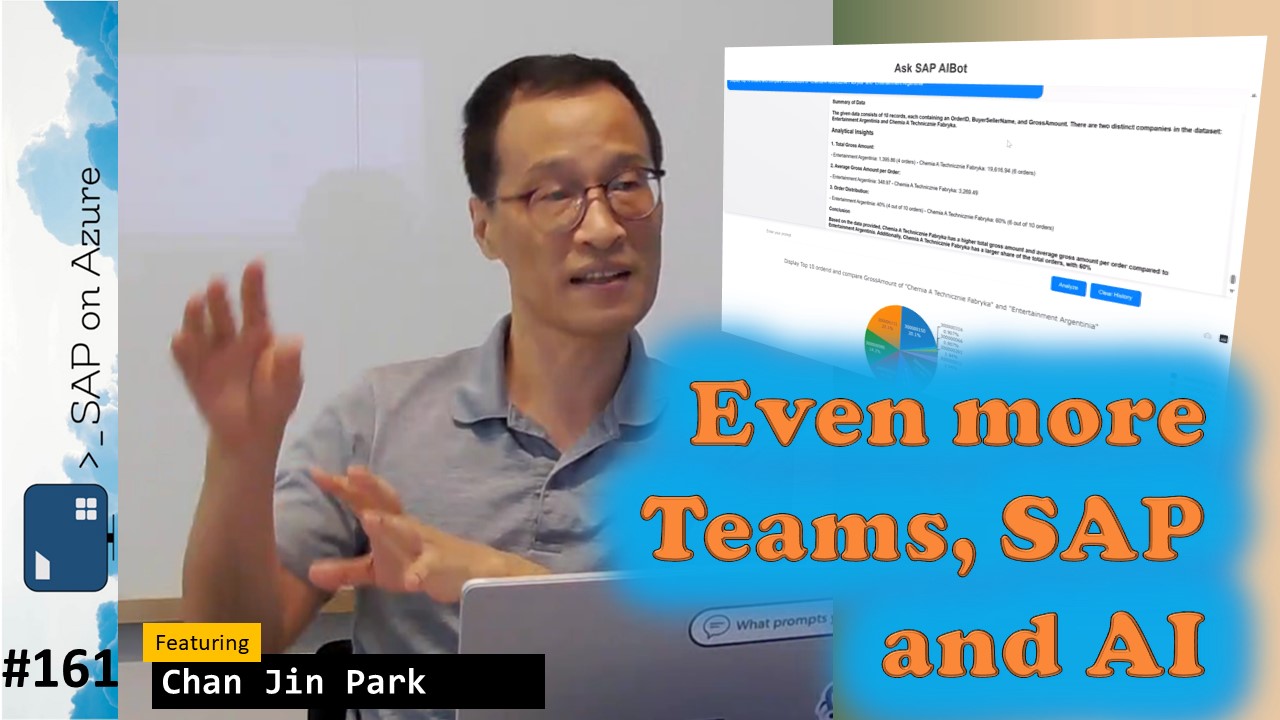 ---
Episode #161
Introduction
In episode 161 of our SAP on Azure video podcast we talk about the DSAG Jahreskongress 2023, SAP Business One with Power Platform and announcing Microsoft Copilot! Then we switch topics:
5 months ago we had a very interesting episode where CJ from our Team in Asia had developed a simple, but amazing scenario on how to leverage Azure OpenAI, Teams and generating SQL queries to access data from SAP. After his session we had Michael Mergell and our intern Noopur Vaishnav joining as well to talk about similar scenarios. Today CJ joins us again to provide an update on the latest integrations of Teams, SAP and AI.
https://github.com/cjpark-sapcsa/chatgpt-sap-aoai
Find all the links mentioned here: https://www.saponazurepodcast.de/episode161
Reach out to us for any feedback / questions:
Summary created by AI
Key Topics:
News from DSAG Congress: SAP announced innovation only in RISE and Java, leaving out customers on premise. Matthias Steiner wrote a blog post summarizing the keynote and the evolution of SAP Cloud Platform.
SAP Business One and Power Platform integration: Moshe showed how to use Power Platform to connect and extend SAP Business One data and processes, using the HANA System Replication connector and the Power BI connector.
Microsoft Copilot event: Microsoft announced new features and updates for Windows 11, Edge, Bing, Teams, and Microsoft 365, with a focus on collaboration and productivity.
Course on SAP and Microsoft integration: Holger and CJ showed how to use OpenAI to access data from SAP systems and leverage cognitive services from Microsoft, using Synapse, Power BI, and Azure Container Instances. They also demonstrated how to use natural language to query and visualize the data.
Feedback and ideas for future scenarios: CJ asked for feedback and ideas from the audience and Holger, and mentioned some possible use cases for more sophisticated integration scenarios, such as real-time data, historical data, and data discovery.
#Microsoft #SAP #Azure #SAPonAzure #AzureOpenAI