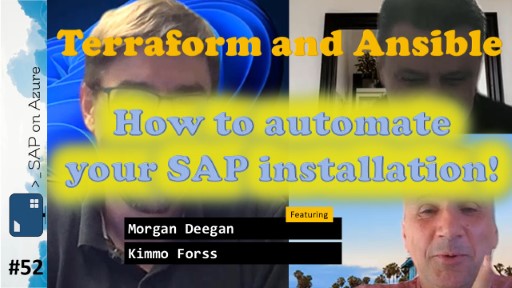 ---
Episode #52
Introduction
In Episode 52 of the SAP on Azure Video Podcast we talk about SuccessFactors and Azure Active Directory Integration, Teams integrations, Synapse Pipelines and OData, BTP Integration with Azure and further SAP Private Link Services scenarios. Then we have Morgan Deegan & Kimmo Forss talking SAP deployments using Terraform & Ansible available on GitHub.
Links
Video Index
0:00 Intro
1:07 SuccessFactors and Azure Active Directory
2:23 Teams integration
3:18 BTP Integration with Azure
4:19 Synapse Piplines and OData
5:44 Private Link Services
7:54 Introducing Morgan and Kimmo
9:45 Motivation: Terraform & Ansible
17:32 SAP on Azure - Automation Framework
24:24 Installation Flow
25:22 Walking through GitHub Repo
30:10 Livecycle activity
39:15 Download the SAP Software
44:40 Preparing the OS
47:55 Current Scope & Outlook
53:24 Get started!