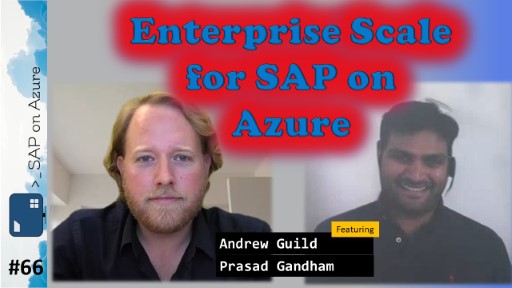 ---
Episode #66
Introduction
In Episode 66 of the SAP on Azure Video Podcast we talk about Ignite, Viva & SuccessFactors, Teams integration, Microsoft Graph connectors, news around Power Platform, Azure IaaS Day and the Enterprise scale for SAP. For this we have Prasad Gandham & Andrew Guild joining us to provide us with the latest news and also give us an outlook on what to expect very soon in this area.
Links
Video Index
0:00 Intro
1:05 Microsoft Viva is now generally
2:44 Microsoft Viva partner integrations
3:04 SAP SuccessFactors Learning and Microsoft
3:57 SAP Sales Cloud and Microsoft Teams
4:43 Microsoft Ignite Opening
5:52 Ignite BOOK OF NEWS
9:17 Microsoft Graph connectors
10:35 Power Platform capabilities announced at Microsoft Ignite
13:18 Power Platform Adoption
13:59 Azure IaaS Day
15:03 VMware Solution now generally available
16:52 Introducing Andrew and Prasad
19:11 What is Enterprise Scale for SAP
23:55 Cloud Adoption Framework & Enterprise Scale
27:30 Looking at the content
28:29 Looking at architecture
31:10 Questions around Identity
36:20 Deployment automation
40:15 Provide feedback!