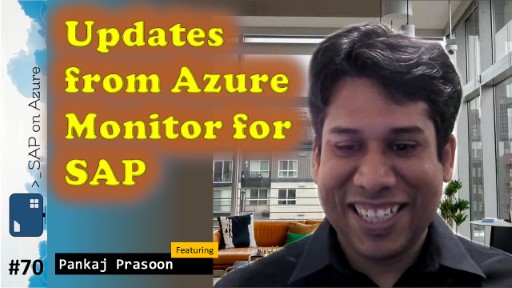 ---
Episode #70
Introduction
In Episode 70 of the SAP on Azure Video Podcast we talk about Private Link with SSL, a new whitepaper for DMO to Azure, General updates on SAP on Azure, Pacemaker on SUSE Linux, the NBA using RISE with SAP on Azure and look at the Festive Tech Calendar 2021. Then we have Pankaj Prasoon from Microsoft Digital showing us the latest and greatest features of the Azure Monitor for SAP solution.
Links
Video Index
0:00 Intro
1:18 Private Link with SSL
2:21 DMO to Azure
5:15 General Update SAP on Azure
7:36 Pacemaker on SUSE Linux
9:17 NBA using RISE with SAP on Azure
10:23 Festive Tech Calendar 2021
11:40 Introducing Pankaj Prasoon
15:10 Adding a provider
18:15 Availability of services & RCA
23:30 Application metrics /SDF/SMON, ST03, Top Transactions
28:00 Batch Jobs Monitoring
31:36 Alerts
36:25 Queue Statistics - SMQ1
41:02 Outlook - what might come next?